Welcome to MacEfficiency™
Mac — as in the Macintosh computing platform, Mac OS X.
Efficiency — as in achieving the best result for the least wasted efforts.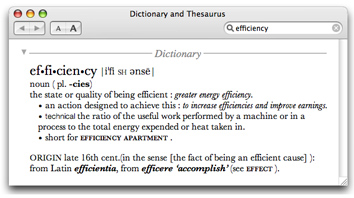 mac. efficiency.
                       Yes, it is.
No matter how you use your Mac and OS X,
    you've got a headstart on efficiency just by choosing Mac.
This website is dedicated to helping you discover ways you can use the Mac's native features to maximize your computing efficiency.
It will also delve into various third-party add-ons 
  or software that'll help.
Newest articles
TextEdit Efficiency Part 1
&
TextEdit Efficiency Part 2
Because there's a lot of power
in this free app.
And explore best practices within programs as well.
  For example, word processing tips.
All brought to you by the excellent sponsors who help make the Mac community so great.
Follow the columns using the Chronological Index
or find article by topic within the menus.
Sign up to receive a simple email each time a new column is released.
I invite you all to come by and have a read any time.


If you're an old-time Mac user and are having a sense of déjà vu, that's because I was the creator and author of a column I called Mac Efficiency 101 from 1998-2001. Those older columns are here, too, as they have been since 2001. This new series is written with the same spirit and sense of community of my original series.
Until next time...

A note for 2019: As you may notice below, this site has not been updated in a very long time. My apologies but life took me into other endeavors. Also, I'm sorry but along the way as I tested web software, the menus here broke and I never got to fix them.